Wave Jumpers
Wave Jumpers is based in Port St Johns on the Wild Coast of South Africa. We specialise in Marine Mammal Photography and dolphin watching off the coast of Port St Johns.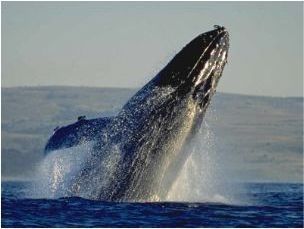 Rod Haestier, the senior partner, brings with him 16 years experience with the Natal Sharks Board during which he was very actively involved in operational research of dolphins, sharks and whales. He has an intimate knowledge of dolphins and will give you the thrill of finding yourself right among the resident pod of dolphins. Rod is very skilled with his 5 meter ski-boat and launches direct from the Umzimvubu River mouth, which is in itself an exhilarating experience.
Rod markets his pictures and posters of dolphins directly and can be contacted via email or telephone. Some samples of his work can be viewed below. All these pictures were taken off the coast of Port St Johns.
Telephone: +27 83 7752082
Email: [email protected]
Umzimvoodoo River Rafting
Join Umzimvoodoo River Rafting's exclusive safaris on the Wild Coast's hitherto inaccessible and majestic Umzimvubu, the third largest South African river, with its grade four whitewater rapids and untouched "National Geographic" scenery.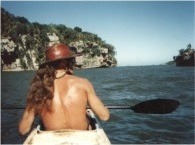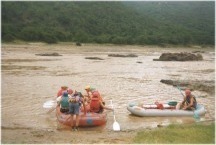 The safari includes two nights camping on the beautiful riverside, delicious cuisine and campfire evenings, exciting 4×4 transport on scenic route to launching point (60km) and all river and camping equipment.
The weather and water are warm all year round on the Wild Coast (midway between Durban and East-London), ensuring this adventure to be a perfect winter escape!
We travel in small groups to ensure the exclusivity and the quality of your safari in untouched nature and provide you with an excellent service.
Cell: +27 83 263 8687 (Riaan)
Email: [email protected]
Back to Port St Johns Nature